News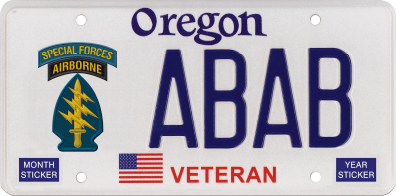 Chapter 47 has successfully lobbied the Oregon DMV to issue a Special Forces Veteran motor vehicle license plate. Unfortunately, the State of Oregon hasn't yet permitted any veteran's motorcycle plate, but we'll keep working for it.
The Oregon SF Veterans plate is available only to veterans who can verify their status as veterans, and as SF Tab holders, (or "Q" course graduates) on a DD214 or its equivalent.
The license plate features a Special Forces Shoulder patch with Special Forces tab.

The license plate is available from any Oregon DMV office with a new or renewal license application, your qualifying DD214, and about two a week processing delay.
Events
November 15, 2014 : Chapter 47 lunch and general meeting
1300 hrs
Bamboo Grove Hawaiian Grill
515 SW Carolina St.,
Portland, OR 97239
January 17, 2015 : Chapter 47 lunch and general meeting
1300 hrs
Bamboo Grove Hawaiian Grill
515 SW Carolina St.,
Portland, OR 97239
March 21, 2015 : Chapter 47 lunch and general meeting
1300 hrs
Bamboo Grove Hawaiian Grill
515 SW Carolina St.,
Portland, OR 97239
May 16, 2015 : Chapter 47 lunch and general meeting
1300 hrs
Bamboo Grove Hawaiian Grill
515 SW Carolina St.,
Portland, OR 97239
June 4–10, 2015 : Special Forces Association Annual
Conference and Convention
Red Lion Inn on the Columbia River
Portland, OR